Veevart for Art Galleries
Art galleries and art merchants are the passionate risk takers, one of the more important parts of our culture producing chain. Veevart is here to provide them with the best and simplest technology to allow them to succeed. Have your customers, your inventory, your business history and your website at your finger tips
Showcase your artworks like never before
Maximize your opportunities by showing your artworks in a clean, optimal and beautiful way!
Discover our Veevart Collection App
The best cloud platform to manage your gallery
Have your contacts, your sales, your email, inventory, exhibition preparation, and more in a single app. Your Art Gallery is at your fingertips
"I loved the idea to base our backoffice linked to the website and CRM as powerful as Salesforce.
Veevart team was very efficient and always quick to answer our requests.
I strongly recommend Veevart!"
Bernard Markowicz, Owner of Markowicz Fine Arts
The reinvented Guestbook is here
Track people who come to your gallery and their feedback on your exhibits
Marketing
Forget about exporting and importing contacts to your preferred email marketing provider. Create whatever criteria you need for marketing and segmentation, and leave the integrations do the job of aligning your different lists and groups
Now you can have Veevart and your email in a single place
Whether you are using Gmail or Outlook, you can sync your client's emails and even see if they have open them. Take your communications to the next level with Veevart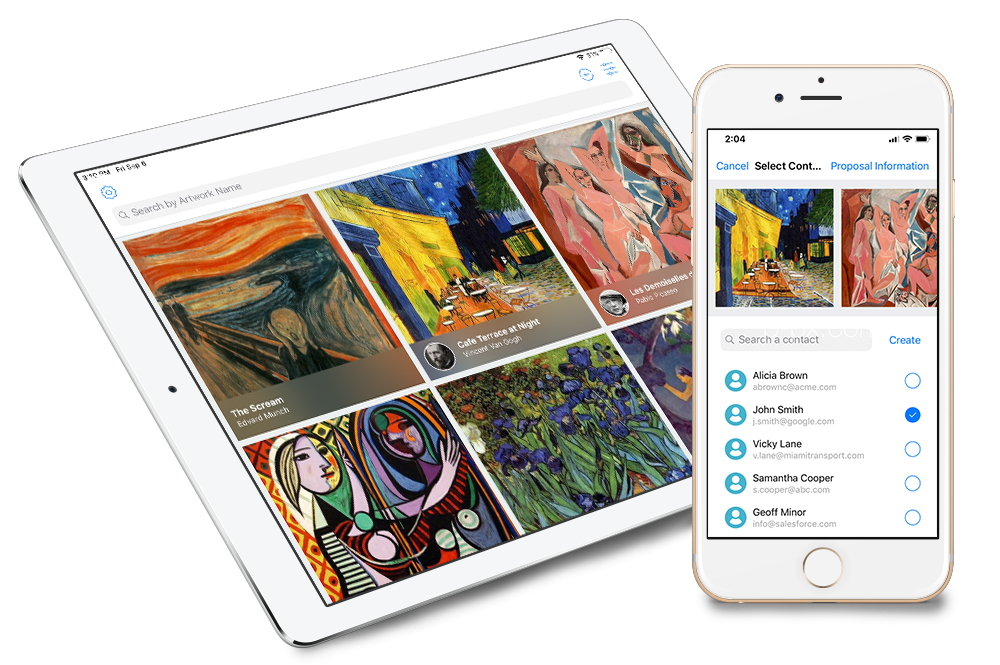 Access your information anytime and anywhere
To be the best in their field, gallerists must have simple and constant access to the information they need
Not all galleries have the same objectives in terms of client management, communication, and sales. We work with you in order to bring an efficient answer to all your challenges
Contact and Client Management
Veevart means a well-organized client database. You are now able to track all your collectors and prospective clients, see their purchase histories and receive an automatic report on who may be interested in your inventory
Artworks and Inventory Management
Pictures, videos, documents, and other information are at your fingertips and securely stored in the cloud. The application helps you organize activities around your inventory and is connected in real time to the iPad & iPhone Collection Application
iPad and iPhone application to showcase and share your artworks (Beta)
Present and share your artworks and exhibitions whenever you want, from your iPad or iPhone. Veevart's Collection application is free, connected in realtime to your inventory and works with or without internet
Art Transaction Management
The application enables you to manage different stages of transactions, and produce invoices and certificates. It also supports online sales and multi-artwork transactions
Exhibitions and Logistics Activities
Exhibitions, loans and transports are linked to your inventory. Your team can collaborate and make a success out of all your projects
Email Marketing
All your data can be used to send personalized emails. We connect to most email providers such as MailChimp and ConstantContact
Manage Artist Commissions
Keep track of all artist commissions and create receipts for them in a couple of clicks
Collaborate and do Business with other Galleries
Create transactions in partnerships with other galleries and keep track of their commissions
Website Creation & Management
We create beautiful websites that make your artworks shine and display everything that matters to your gallery. Online shop is coming soon!
Reports & Dashboards
Sales tracking, email statistics, an overview of your team performance, etc., reports & dashboards enable you to track whatever information you are interested in. They are always in real time, easy to use, and can be sent automatically to your inbox
Pricing
We keep it simple. Veevart brings the best technology at an affordable price