Veevart for museums and Cultural Institutions
Never in our time has society needed more places of consensus, observation, discussion and tolerance. Places where past, imagination, creativity, science and knowledge mix in order to provide the visitor and the community clean air to live, breath and prosper. Veevart is here to support those places and the wonderful people that make them a reality
Veevart Museum Overview
Explore all the features that the Veevart Platform has to offer. Built on top of the powerful Salesforce platform, we provide institutions with a 360º view of their visitors and donor, while focusing our development efforts in helping you raise more funding, engage with your community, and work simpler and faster
Fundraise like never before
We love the Salesforce.org Nonprofit Cloud! Our fundraising features are built on top of this great product taking its functionality to the next level, linking them to all your sales and offering channels. Now you can create Membership Programs and Specific Funds that can be accessed from your Website, your POS, and quickly through your Salesforce instance
From Collection Management to CRM, have all the activities of your museum at your fingertips
CRM, Ticketing & Gift Shop, Collection & Digital Asset Management, Email Marketing, etc. are centralized in a single application to provide you with a real time and global visibility overview of your operations
A Powerfull and Easy to Use POS System
Tailored to the Museums and Cultural institutions needs, the Veevart POS System presents a fresh interface where the transaction processes are done fast and easy. Selling shop items and tickets, saving contacts and scanning tickets are just a small part of what this app can do for your institution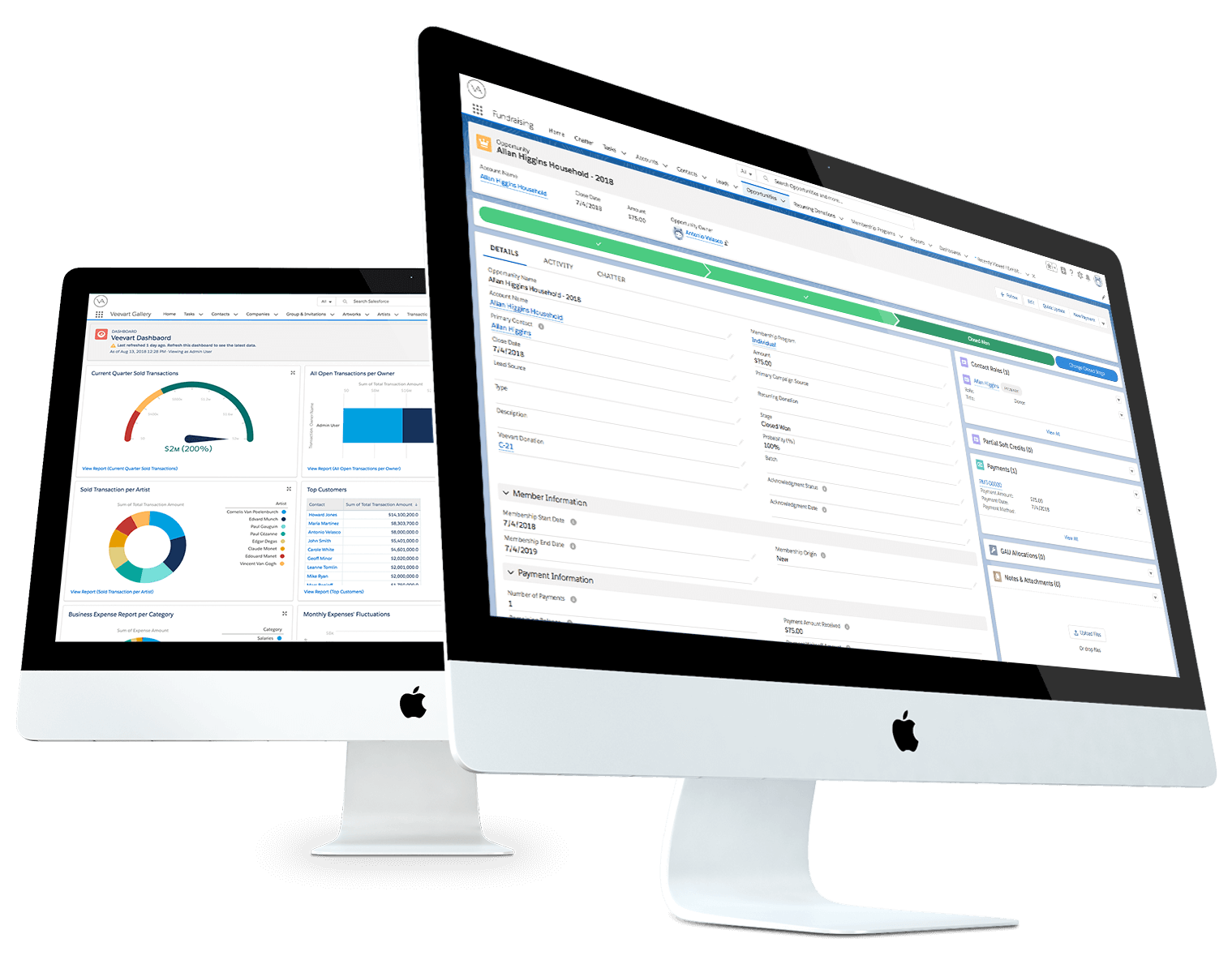 Maximize Collaboration Between your Teams
Working in the same platform and having an overview of their co-workers' projects, reinforces the collaboration and efficiency of your associates
Have a 360° visibility overview of your Visitors' & Customers' Journey
Veevart is a very simple application through which you can analyze and understand the journey of your visitors, from your website, to your gift shop or donation platform
The reinvented guestbook is here!
Say goodbye to the pages, the ineligible hand-writing, and the hours of typing the names of guestbooks in a database
Now you can have Veevart and your email in a single place
Whether you are using Gmail or Outlook, you can sync your client's emails and even see if they have open them. Take your communications to the next level with Veevart
Marketing
Forget about exporting and importing contacts to your preferred email marketing provider. Create whatever criteria you need for marketing and segmentation, and leave the integrations do the job of aligning your different lists and groups
"We have been using Veevart for almost a year and it's safe to say we are absolutely thrilled. Along with the expert guidance of the Veevart team this app has enabled us supercharge the way we work. Veevart is helping us become a more insightful, responsive and data driven global arts organization"
Danny Browne, Global Technology Manager / Science Gallery Inernational
CRM, Patrons, Visitors & Membership Management - Fundraise like never before
The CRM functionality is directly connected with the ticketing and gift shop application, allowing institutions to better understand their audience, and build programs that will entice them to support the organization
Ticketing System
Sell tickets online and onsite by managing your offerings directly through Salesforce. An iPad application automatically enriches your visitors' base with the information provided
Gift Shop & POS Application
Use both the online and in-store purchase history of your contacts. Manage inventory levels and get alerts. Because all the data is in one single place, gift shop, ticketing and donations, help you to fully understand your visitor's journey
Collection Management
Store all your collection media and manage specific content in order to adapt it depending on your audience. Easily deal with loans, transports, exhibitions and artwork preservation & restoration through your desktop or mobile app
Reports & Dashboards
These is one of our strengths. If it is in the system, you can report on it. Build beautiful graphs that become the image that worth a thousand words
Digital Guestbook and Survey Application
Forget about paper. Bring an easy and user friendly way for your visitors to leave you comments or give you feedback on your events
Pricing
Our goal is to provide museums with the latest in innovation, at an affordable price, and with the best support. We work with museums and their budgets so they can take their operations to the next level and fulfill their mission. Contact us to start the conversation